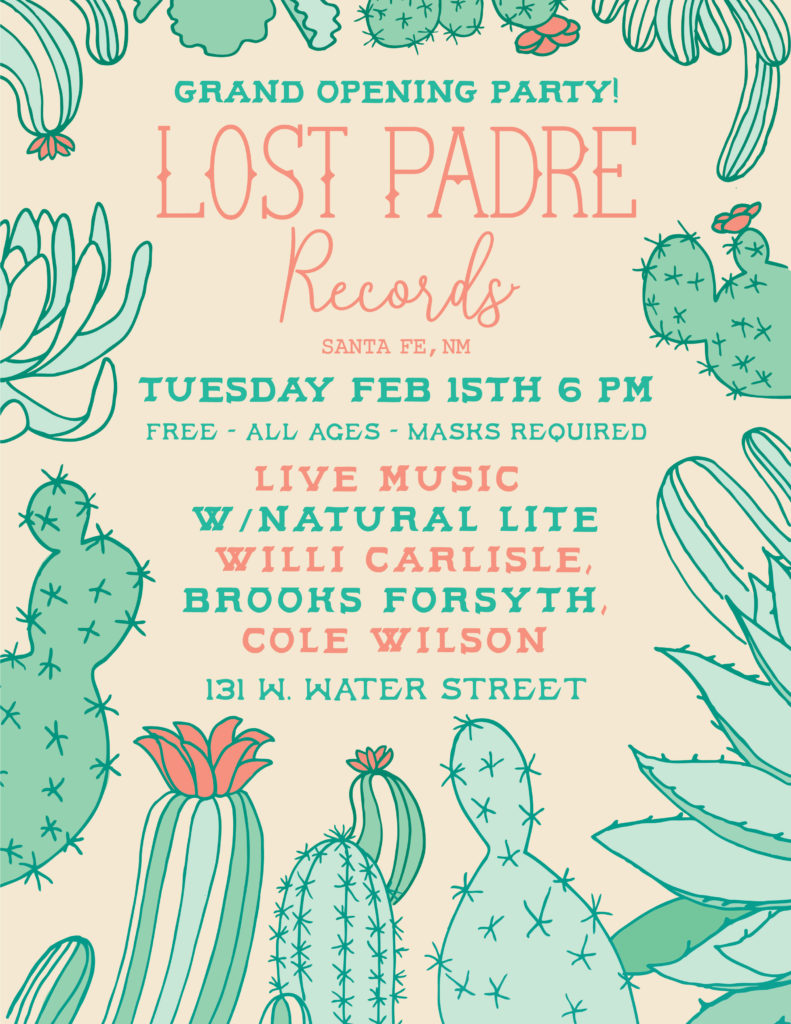 FINALLY!
We're ready to welcome you to the GRAND OPENING of Lost Padre Records' new home in downtown Santa Fe!

We're super psyched for you to come check out our new (small) STAGE so we've got live music from some locals and some out-of-towners we really dig, including:
WILLI CARLISLE— who we were recently bowled over by at our December show at Leaf & Hive, is BACK– he's a folksinger and storyteller from the Ozark mountains of Arkansas that's talented and funny as F*CK! Dude's got press in the Guardian and other newspapers and such, too…
NATURAL LITE— it's the 3 piece BAND incarnation of our favorite Taos-based weirdnik RY WARNER! STRANGE VIBES ONLY.
COLE WILSON— been meaning to get this local golden-locked HEAD on one of our bills forever, and it's happening!
BONUS: North Carolinian BROOKS FORSYTH is gonna stop by with a few of his tunes, too!
If you haven't been by yet, our new spot is DOUBLE THE SIZE– so we'll be doing live music on the regular! Plus we've got 1,000 more LPs out than we did before, used CDs for the first time, more electronics, and all kinds of goodies.
This show is FREE and ALL AGES. BUT…
YOU MUST WEAR A MASK– for REAL!
Not "wear a mask" in quotation marks– actually WEAR a mask. Thanking you in advance…. MWAH (that's the sound of a peck on your cheek– but through two masks).
TUESDAY FEBRUARY 15TH! "Doors" at 6 (shop is open from 11AM)…
SEE YOU SOON!