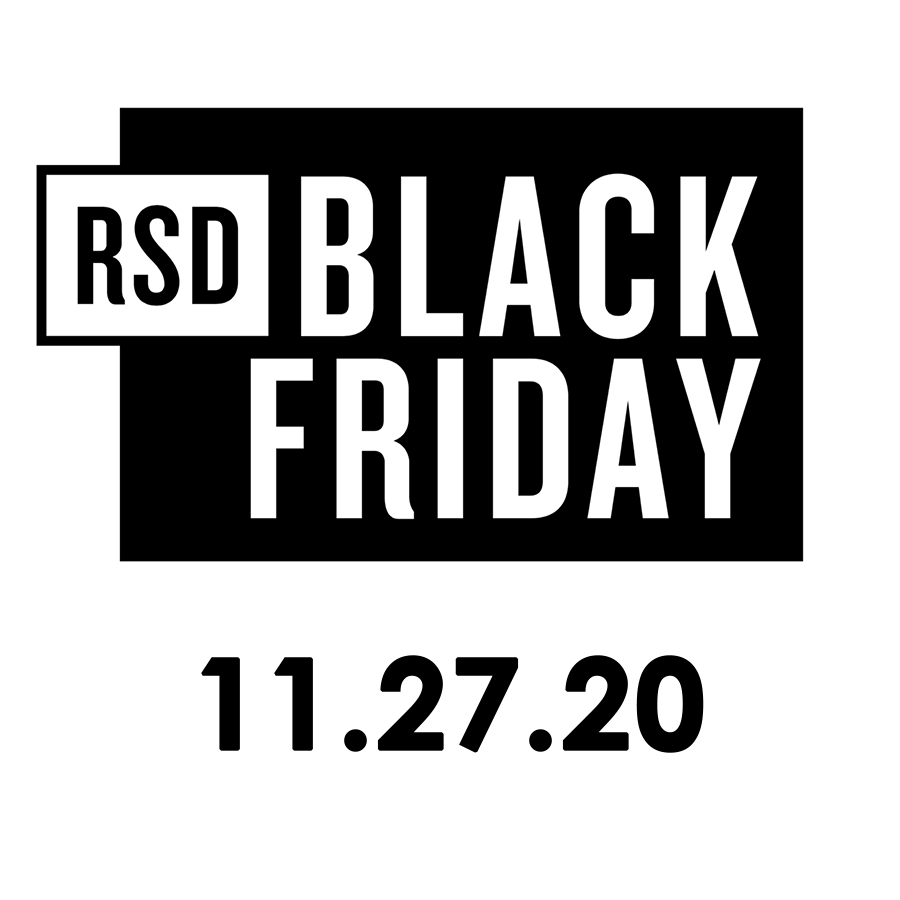 Believe it or not, we're fast approaching the FOURTH Record Store Day event of 2020 (remember that #3 is even sooner: October 24 and we're ready!)
The list of limited edition releases for this year's Black Friday event have been announced and we have to place our orders THIS THURSDAY (October 15!) See below for a full list. To request a title, simply fill out this form: Order Records from Us.
Note that requests are not pre-orders— we're not allowed to pre-order, hold or guarantee LPs for any customer from Record Store Day events. They are all first come first serve. However, if you request a title, it's more likely that we'll order more copies, upping your chance of getting one on the big day!
Without further ado, here's the list. Remember to request anything you can't do without– before Thursday!
Artist
Title
Label
Format
Edition of
Alexander, Monty
Love You Madly: Live at Bubba's
Ingrooves / Resonance Records
Vinyl LP(x2)
1,200
Alice In Chains
SAP
Legacy
12″ Vinyl
8,500
Anthrax
Soldiers of Metal
Megaforce
12″ Vinyl
1,000
Bangles, The
Doll Revolution (Limited, Hand-Numbered 2-LP Streaked Pink Vinyl Edition)
Real Gone Music
Vinyl LP(x2)
1,200
Barney Wilen Quartet feat Tete Montoliu
Barney and Tete : Grenoble '88
Ingrooves / Elemental Music
Vinyl LP
1,000
Baroness
Live at Maida Vale BBC – Vol. II
Abraxan Hymns
12″ Vinyl
3,500
Batiste, Jon
We Are: Roots and Traditions
Verve/Verve
12″ Vinyl
2,500
Beastie Boys
Some Old Bullshit
Ume / Capitol
Vinyl LP
8,000
Beat Farmers, The
The Beat Farmers Live At The Spring Valley Inn, 1983
Blixa Sounds
Vinyl LP(x2)
1,000
Berry, Chuck
Rockin' n Rollin' The New Year
Liberation Hall
Vinyl LP(x2)
1,000
Best Coast
Crazy For You – 10th Anniversary Edition
Caroline / Mexican Summer
Vinyl LP
1,000
Big K.R.I.T.
TDT
BMG
Vinyl LP
1,500
Bilal & Nikki Jean
Black Coffee in Bed
Yep Roc Records
7″ Vinyl
800
Blue Öyster Cult
Live in Pasadena July '83 (Limited 2-LP Blue with Black Swirl Vinyl Edition)
Real Gone Music
Vinyl LP(x2)
1,300
Bombino
Bombino Live In Amsterdam
Partisan Records
Vinyl LP(x2)
1,000
Bramhall, Dotle II
Be Here Now (feat. Susan Tedeschi and Derek Trucks) .
Surfdog
7″ Vinyl
750
Brubeck, Dave
Christmas Lullabies
Verve
12″ Vinyl
2,500
Buckcherry
Buckcherry (AEC Exclusive)
Real Gone
Vinyl LP
1,500
Capaldi, Lewis
Divinely Uninspired To A Hellish
Extent (Deluxe)
Capitol
Vinyl LP(x2)
2,000
Carpenter, John and Dave Davies
Village of the Damned (Deluxe Edition) – Original Motion Picture Soundtrack
Concord / Varese Sarabande
Vinyl LP(x2)
2,100
Cave, Nick
Cosmic Dancer
BMG
7″ Vinyl
2,500
Chariot, The
Long Live
Good Fight Music
Vinyl LP
2,000
Chicano Batman
Invisible People – Instrumentals
Caroline / Ato
Vinyl LP
2,500
Cocker, Jarvis
Further Complications (WHITE VINYL)
Rough Trade
Vinyl LP + 12″
1,000
Cocker, Jarvis
The Jarvis Cocker Record (GREEN VINYL)
Rough Trade
Vinyl LP + 7″
1,000
Comet Is Coming, The
Imminent
Verve
12″ Vinyl
2,500
Cornell, Chris
Patience
Ume / Iga / A&M
7″ Vinyl
6,000
Coryell, Larry
At The Village Gate
Culture Factory USA
Vinyl LP
1,000
Crack The Sky
Tribes
Carry On Music
Vinyl LP(X2)
850
Crown The Empire
7102010
Rise Records
12″ Vinyl
1,500
Cunningham,Don
Something For Everyone
Luv N' Haight Records
Vinyl LP
1,000
Dalton, Karen
It's So Hard To Tell Who's Going To Love You The Best (Reissue)
Capitol/Capitol
Vinyl LP
3,000
Daly, Jon
Abracadabralifornia
Northern Spy Records
7″ Vinyl
800
Day, Zella
Where Does The Devil Hide
Concord / Concord
12″ Vinyl
2,000
DeLugg, Milton & The Little Eskimos / The Fleshtones
Santa Claus Conquers The Martians – Hooray For Santa Claus
Modern Harmonic
7″ Vinyl + DVD
1,500
Dickinson, Luther
Rock, Live Concert
New West Records
Vinyl LP
900
DIO
Dream Evil Live '87
Niji/BMG
12″ Picture Disc
2,500
DMX
Best of DMX
Ume / Def Jam
Vinyl LP(x2)
3,500
Dr. Demento
First Century Dementia: The Oldest Novelty Records Of All Time
Liberation Hall
Vinyl LP(x2)
1,200
Drive-By Truckers
Plan 9 Records July 13, 2006
New West Records
Vinyl LP(x3)
3,800
Evans, Bill
Live at Ronnie Scott's (1968)
Ingrooves / Resonance Records
Vinyl LP(x2)
4,000
Fleetwood, Mick & Friends / Fleetwood Mac
Green Manalishi (with the Two Pronged Crown)
BMG
12″ Vinyl
3,000
Fountains of Wayne
Welcome Interstate Managers (Limited 2-LP Natural with Black Swirl Vinyl Edition)
Real Gone Music
Vinyl LP(x2)
2,500
Frehley, Ace
Space Truckin'
Eone
12″ Picture Disc
2,100
George Coleman Quintet
In Baltimore
Reel To Real Recordi
12″ Vinyl
1,000
Gilmour, David
Yes I Have Ghosts
Legacy
7″ Vinyl
5,000
Grand Puba
Reel to Reel
Tommy Boy Music, LLC
Vinyl LP(x2)
2,000
Grandaddy
"RIP Coyote Condo #5″ b/w " "The Fox in the Snow" & "In My Room"
Dangerbird
12″ Vinyl
600
Grusin, David
The Goonies – Original Motion Picture Score
Concord / Varese Sarabande
Vinyl LP Picture Disc
2,400
Half-A-Mill
Milíon
Tuff Kong Records
Vinyl LP(x2)
800
Happy Fits, The
Grapefruit
The Happy Fits Records / Diamond City Records
7″ Picture Disc
1,000
Harrison , George
My Sweet Lord
Ume / Capitol
7″ Vinyl
7,500
Hatfield, Juliana
Christmas Cactus/Red Poinsettia
American Laundromat Records
7″ Vinyl
1,500
Herbie Hancock Trio
The Herbie Hancock Trio
Get On Down
Vinyl LP
2,000
High Pulp
Mutual Attraction Vol. 1
Kingunderground
Vinyl LP
750
Holiday, Billie , Nina Simone, and Bettye Lavette
Originial Grooves: Billie Holiday, Nina Simone, and Bettye Lavette
Verve/Verve
12″ Vinyl
2,500
Hootie & The Blowfish
Losing My Religion/Turn It Up Remix
Umg Nashville / Capitol Nashville
7″ Vinyl
1,500
Hurlbut, John and Jorma Kaukonen
The River Flows,
Volume One
Fur Peace Ranch Records
Vinyl LP
1,500
Ice-T
Rhyme Pays
Sire / Warner Records
Vinyl LP
1,000
Jadakiss
The Collector's Edition
Def Jam
Vinyl LP
1,500
Jahari Massamba Unit
Pardon My French
Madlib Invazion
Vinyl LP
2,000
James, Bob
Nautilus / Submarine LP
Evosound
7″ Vinyl
500
Jazz Sabbath
Jazz Sabbath
Blacklake
Vinyl LP + DVD
1,500
Jefferson Starship
Blows Against The Empire – 50th Anniversary
Legacy
Vinyl LP
3,000
Jerry Garcia Band
GarciaLive Volume Two: August 5th, 1990 Greek Theatre
Caroline/ Ato/ Round Record
Vinyl LP(x4)
4,000
Jewel
Live At The Inner Change
CRAFT RECORDINGS
Vinyl LP(x2)
2,500
Jones, Norah
Playdate
Capitol / Blue Note
12″ Vinyl
2,000
Jones, Sharon & The Dap-Kings
Just Dropped In (To See What Condition My Rendition Was In)
Daptone Records
Vinyl LP
4,000
Jovovich, Milla
The Divine Comedy
Real Gone
Vinyl LP
1,000
Kid's See Ghost
Kid's See Ghost
Def Jam
Vinyl LP
4,000
Knight, Curtis & The Squires
The PPX Sessions Volume 2
SMG
Vinyl LP
3,000
Lil Wayne
No Ceilings
Republic / Young Money
CD
5,000
Lil Wayne
Tha Carter V (Deluxe)
Republic / Young Money
CD(x2)
5,000
Linkin Park
Meteora
Warner Records
Vinyl LP(x2)
3,000
Little Richard
Southern Child
Omnivore Recordings
12″ Vinyl
1,800
Living Room, The
The Living Room
Fuzze-Flex Records, LLC
Vinyl LP
1,500
Los Straitjackets
Beatles vs. Stones
Yep Roc Records
7″ Vinyl
800
Magnetic Fields
Quickies
Nonesuch
Vinyl LP
1,000
Mann, Aimee
Bachelor No. 2 [Or, The Last Remains Of The Dodo]
SuperEgo Records
Vinyl LP(x2)
4,000
Masta Ace & Marco Polo
A Breukelen Story Instrumentals
Fat Beats Records
Vinyl LP(x2)
1,000
Masters of Reality
Sunrise on the Sufferbus
Real Gone
Vinyl LP
1,500
McMurtry, James
Childish Things
Lightning Rod Records
Vinyl LP(X2)
3,000
Morissette, Alanis
Live at London's O2 Shepherd's Bush Empire, 2020
Rhino / Warner Records
Vinyl LP(x2)
3,000
Motorhead
Ace of Spades – Holiday Edition
Sanctuary/BMG
12″ Vinyl
2,500
Motörhead
On Parole (Expanded and Remastered)
Parlophone
Vinyl LP(x2)
3,000
Motörhead
On Parole (Expanded and Remastered)
Parlophone
CD
4,200
mullins, larry + mike watt
"1970" (parts I and II): a tribute to the stooges
ORG Music
7″ Vinyl
800
My Chemical Romance
Live On The Murder Scene
Reprise
Vinyl LP
7,500
Neil, Fred
38 MacDougal
Delmore Recordings
Vinyl LP
1,000
Nelson, Willie
Live At Austin City Limits 1976
Legacy
12″ Vinyl
4,000
Norma Jean
Meridional
Concord/Craft
Vinyl LP
2,500
Ol' Dirty Bastard
Return to the 36 Chambers: The Dirty Version (The Instrumentals)
Rhino / Elektra Records
Vinyl LP(x2) + 7″
4,000
Paige, Kaash
Parked Car Convos
Def Jam
Vinyl LP
1,500
Painted Shield
Painted Shield (Deluxe)
Loosegroove Records
Vinyl LP + 7″
1,500
Pop Smoke
Shoot For The Stars Aim For The Moon
Republic / Victor Victor
Cassette
2,000
Pop Smoke
Shoot For The Stars Aim For The Moon (Deluxe)
Republic / Victor Victor
CD(x2)
5,000
Prine, John
The Asylum Albums
Rhino / Elektra Records
Vinyl LP(x3)
2,000
Public Enemy
Power To The People And The Beats – PE GH
Ume / Def Jam
Vinyl LP(x2)
7,000
Puscifer
Apocalyptical/Rocketman 7″
BMG/Alchemy
7″ Vinyl
2,000
Reed, Lou
Live At Alice Tully Hall – January 27, 1973 – 2nd Show
Legacy
Vinyl LP(x2)
5,000
Reed, Lou
Magic and Loss
Sire / Warner Records
Vinyl LP(x2)
3,300
Rock,Pete
NY's Finest Instrumentals
Nature Sounds
Vinyl LP(x2)
1,000
Rolling Stones, The
Let It Bleed (Limited Collector's Edition)
Abkco Music & Records, Inc.
Vinyl LP
900
Rollins, Sonny
Rollins In Holland: The 1967 Studio & Live Recordings
Ingrooves / Resonance Records
Vinyl LP(x3)
3,500
Shadows Fall
Of One Blood
M-Theory
12″ Vinyl
1,350
Sinatra, Nancy & Lee Hazlewood
Some Velvet Morning b/w TIred Of Waiting For You
Light In the Attic
7″ Vinyl
2,000
Smith, Elliott
Elliott Smith Alternate Versions
Kill Rock Stars
12″ Vinyl
2,000
Snoop Doggy Dogg
Doggystyle
Death Row Records
Vinyl LP(x2) Picture Disc
2,400
Stranglers, The
Peaches: The Very Best of the Stranglers
Parlophone
Vinyl LP(x2)
1,500
Studio One
Afrikan Blood
Studio One
Vinyl LP
1,500
Studio One
Afrikan Blood
Studio One
CD
180
sunn O)))
Flight of the Behemoth
Southern Lord
Vinyl LP(x2)
800
Taylor, Corey /Dead Boys
"All This And More"
Elektra
12″ Vinyl
4,000
Tesla
The Great Radio Controversy
LMLR (French Import)
Vinyl LP
1,000
Tha Dogg Pound
Dogg Food
Death Row Records
Vinyl LP(x2)
1,200
Thorogood, George
Live In Boston 1982 (Deluxe Edition)
Concord/Craft
Vinyl LP(x4)
1,200
U2
Boy – 40th Anniversary Edition
Ume / Iga
Vinyl LP
10,000
Uncle Tupelo
Live at Lounge Ax – March 24, 1994
DBPM Records
Vinyl Lp(x2)
2,500
Various Artists
Fraggle Rock Rock On
Lakeshore Records
10″ Vinyl
1,000
Various Artists
Jazz Dispensary: Orange Sunset
Concord/Craft
Vinyl LP
2,500
Various Artists
Silent Night, Deadly Night (Song Soundtrack)
1984 Publishing
Vinyl LP
1,500
Various Artists
The End Is At Hand: Jesus People Music (Vol. 1)
ORG Music, Aquarium Drunkard
Vinyl LP
1,200
Vince Guaraldi Trio
"Christmas Time Is Here"
Concord/Craft
7″ Vinyl
2,500
Volbeat
Hokus Bonus
Republic / Republic
Vinyl LP
3,000
Walking Papers
The Light Below
Carry On Music
Vinyl LP(X2)
1,000
Washington, Jr., Grover
Grover Live
Caroline / Lightyear
Vinyl LP(x2)
2,500
Weeknd, The
After Hours (Remixes)
Republic / Xo Records
Vinyl LP
5,000
Williams, Hank
1952 Radio Audition
BMG
7″ Vinyl
2,000
Wilson, Brian & Van Dyke Parks
Orange Crate Instrumentals
Omnivore Recordings
12″ Vinyl
1,800
Wilson, Jonathan
Rare Blur
BMG
12″ Vinyl
1,500
Yorn, Pete
Pete Yorn Sings The Classics (CD)
Shelly Music
CD
1,000
Yorn, Pete
Pete Yorn Sings The Classics (Vinyl)
Shelly Music
Vinyl LP
1,000