What a crazy few weeks it's been since our last post here. A quick update on the shop: as of this writing, WE ARE STILL OPEN.
We are limiting the number of customers to 3 in the store at one time, and are taking the same measures are responsible business owners are taking right now– wiping down surfaces hourly and providing hand sanitizer for customers.
We are also pricing hundreds of records from storage and the shop is BRIMMING with stock. In fact, the bins are nearly packed full!
We want to thank everyone who has reached out with messages of support– like everyone else, we don't know where this thing is going and we hope for the best. At the moment, sales have fallen off significantly and we are projecting a major loss of sales over the next few months due to a loss of jobs here in Santa Fe as well as diminished or non-existent tourism.
If you'd like to support us further, we are now offering discounted gift certificates good for any item in the shop at any time. In other words, you can purchase a $10 gift certificate for $9, $20 for $17, etc. Please visit this page : Lost Padre Gift Certificates for more information.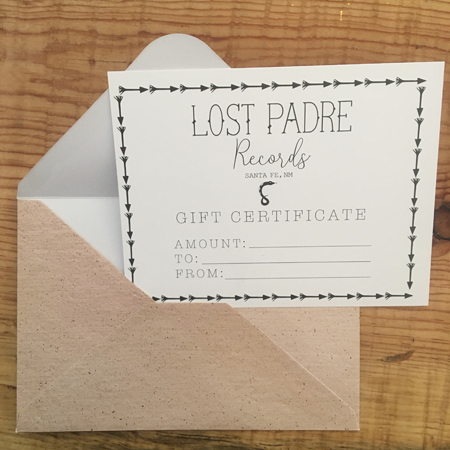 In terms of events, we've still got our April 16 event at Rockin' Rollers on the books, although we'll reassess that event in a couple weeks' time.
Record Store Day has been postponed to Saturday June 20th. We'll keep you posted as to that event and whether it goes forward!