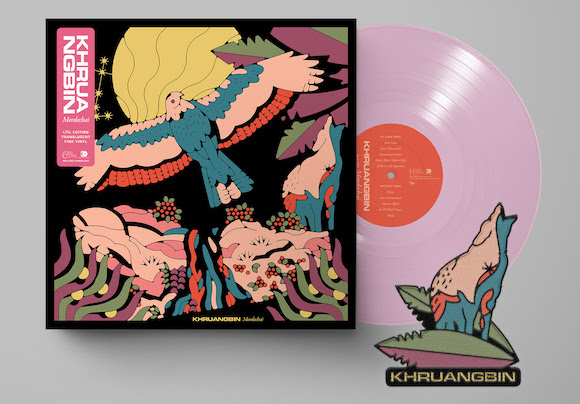 PUMPED to offer a pre-order for Houston killers KHRUANGBIN's latest album on indie exclusive PINK TRANSLUCENT VINYL! Out June 26th 2020, The new album is called Mordechai and features vocals on every track for the first time in the band's history!
Click BUY NOW below to place your pre-order and we'll hold a copy of the limited color vinyl for you at the shop OR will ship it to you for an extra charge when we receive them in June.
Khruangbin – Mordechai (Pink Translucent Vinyl LP)
$19.99
Buy now
Khruangbin has always been multilingual, weaving far-flung musical languages like East Asian surf-rock, Persian funk, and Jamaican dub into mellifluous harmony. But on its third album, it's finally speaking out loud. Mordechai features vocals prominently on nearly every song, a first for the mostly instrumental band. It's a shift that rewards the risk, reorienting Khruangbin's transportive sound toward a new sense of emotional directness, without losing the spirit of nomadic wandering that's always defined it. And it all started with them coming home.
By the summer of 2019, the Houston group–bassist Laura Lee Ochoa, guitarist Mark Speer, drummer DJ Johnson–had been on tour for nearly three-and-a-half years, playing to audiences across North and South America, Europe, and southeast Asia behind its acclaimed albums The Universe Smiles Upon You and Con Todo El Mundo. They returned to their farmhouse studio in Burton, Texas, ready to begin work on their third album. But they were also determined to slow down, to take their time and luxuriate in building something together.
Musically, the band's ever-restless ear saw it pulling reference points from Pakistan, Korea, and West Africa, incorporating strains of Indian chanting boxes and Congolese syncopated guitar. But more than anything, the album became a celebration of Houston, the eclectic city that had nurtured them, and a cultural nexus where you can check out country and zydeco, trap rap, or avant-garde opera on any given night.
In those years away from home, Khruangbin's members often felt like they were swimming underwater, unsure of where they were going, or why they were going there. But Mordechai leads them gently back to the surface, allowing them to take a breath, look around, and find itself again. It is a snapshot taken along a larger journey–a moment all the more beautiful for its impermanence. And it's a memory to revisit again and again, speaking to us now more clearly than ever.